That time of the year is here. The most exciting time in Paro around April first sees the best and most happy faces. The reason is the beginning of the vibrant Paro Tshechu that is celebrated at the 10th day of second month of the lunar calendar. This 5-day long festival is filled with energy, radiance and positivity in the atmosphere. With the jingles and cheers of the spiritual aura of the hills, landscapes and literally everything present there, you are ought to take a lot back with you from the Paro Tshechu. Witness the religious and spirited festivals with the best Bhutan luxury travel packages and gift yourself a time of best experiences and a soulful development.
History of the Paro Tshechu
According to the old beliefs and traditions, Paro Tshechu was nothing but the celebration of the healing of Sindhu Raja (then king of Bhutan) by Guru Padmasambhava. After the king was healed, the festival was held with immense celebration followed by the dance of manifestations.
The festival is also marked as the sanctification of Paro Dzong. It is celebrated by dancing o the masked monks.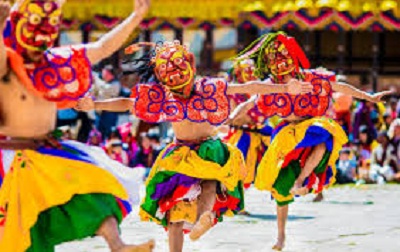 Where does it take place?
As the name suggests, Paro Tshechu is held at Paro at the end of March and April first-week every year. The celebrations take place at the big courtyard outside the Paro Dzong and every person is allowed to witness the long and energetic vibe of the festivities. The whole area is decorated with sculptures and paintings. The complete Dzong is the most picturesque and magnificent at that time. Save the date and book Bhutan luxury travel packages and enjoy with utmost leisure.
Coming closer to the dates
It is not only one of the most popular festivals of Bhutan, but also a time of religious gathering which witness the most crowd. People are emotionally connected to this Tshechu and contribute their bit by actively preparing it from at least a month ago. The Paro Tshechu is a festival of extreme spiritual significance and the last day is the most important. At this day, the ground is completely covered by people as the unfurling of Thangaka takes place at the last day. The Thangaka is made of silk.