Bhutan is one of the most mysterious countries in the world that welcome both modern and traditional culture. The capital city of Bhutan is considered to be the best place to know more about the people and their places. Thimphu is the city without any traffic lights because Bhutanese hated it and policemen control the jam by making the roads away from traffic congestion. Apart from the traffic signal, this city offers you so many places to visit and things to do.
 Monasteries, temples, dzongs, food and many other options bring happiness to your life by visiting the land of happy people. From wildlife to partying in the club, you can enjoy your time by staying in this city. Thimphu travel guide will help you to experience the best offerings of the city by getting to visit popular places by enjoying every moment of your holiday trip towards the Kingdom of Thunder Dragon.
How to reach Thimphu?
You will find a direct train from Kolkata to Hasimara from where you need to take a car to reach Phuentsholing and here you need to issue a permit for your further travel to Thimphu. Paro is the only international airport in the country from where you can reach Thimphu by bus or a car.
Popular Places to visit in Thimphu
Tashichho Dzong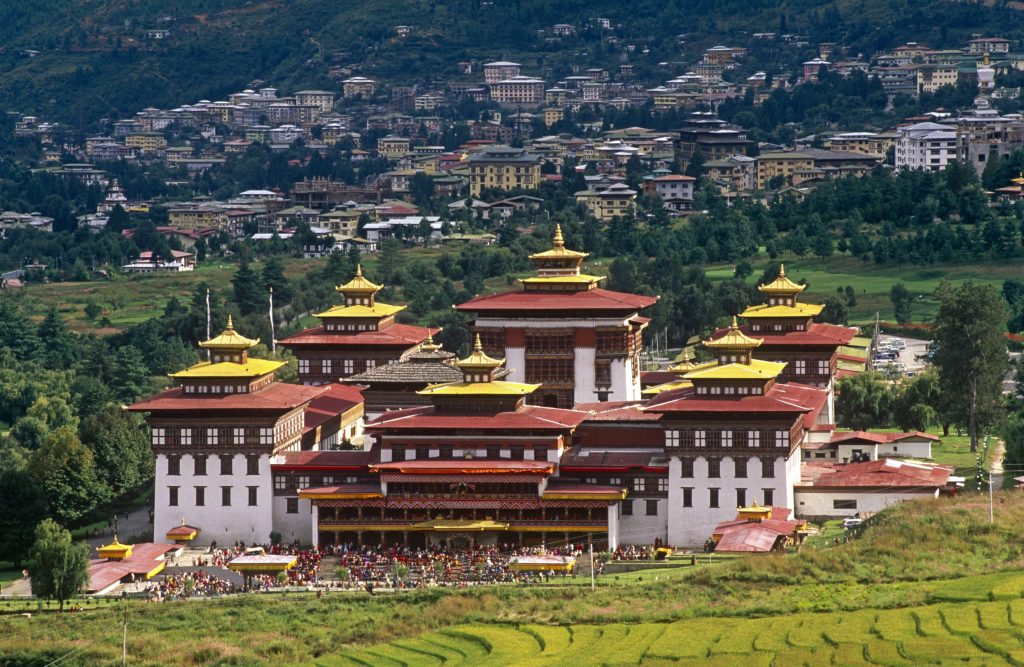 This dzong is considered as one of the most popular places to visit in Thimphu because it tells the stories about the glorious past of Bhutan. The structure is painted in white, red, and gold color to catches the attention of people. This dzong is marked as the venue for various festivities throughout the year. Dzong is similar to monasteries where the teaching of Lord Buddha purify the mind of people and located in the bank of Wang Chu.  
Changangkha Lhakhang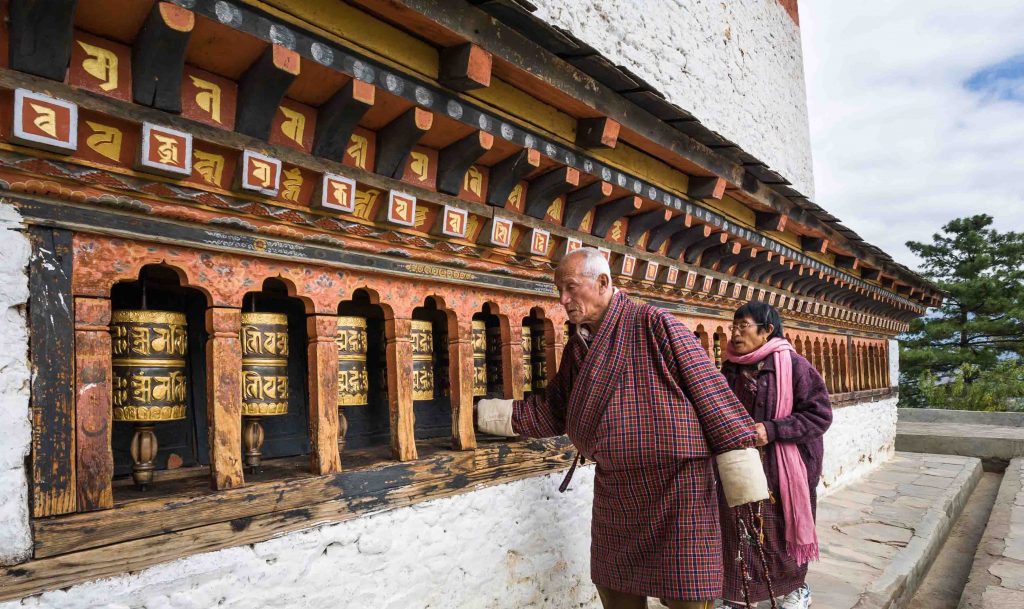 This temple is one of the best places to find peace and tranquility where parents of newborn babies come and take the blessings for good fortune. Whether you are going for a family trip or a romantic tour, visiting this temple will give you a chance to spend the best time over there. People of Bhutan maintain their culture and stay happy by welcoming tourists to their holy land.
National Memorial Chorten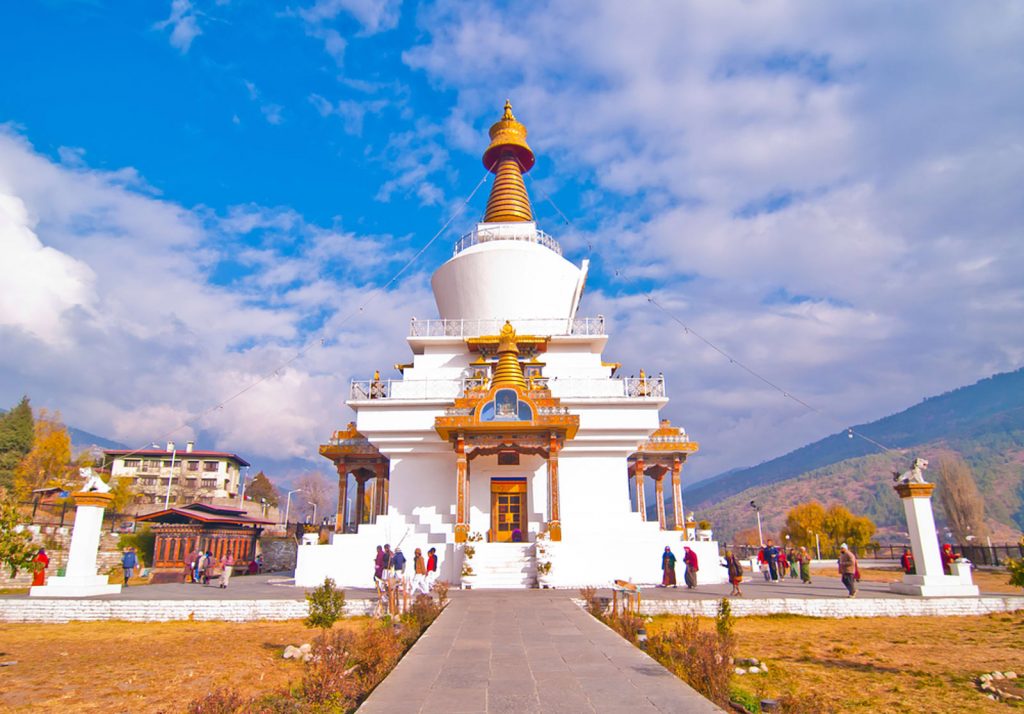 This memorial is a must visited place in Thimphu which is dedicated to the third Kind of Bhutan, King Jigme Dorji Wangchuck. This memorial is considered as one of the best places to visit in Thimphu and people used to visit this place to offer prayer during morning and evening. Build-in Tibetan style and plays an important role in the lives of Bhutanese.
Buddha Dordenma statue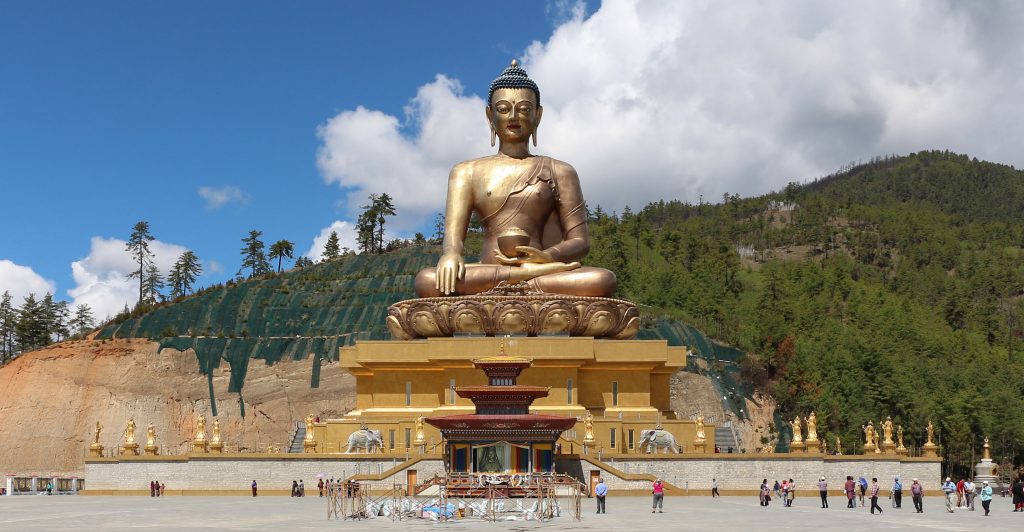 The gigantic statue of Lord Buddha located in Kuenselphodrang is one of the best places for tourists who are looking for a memorable trip towards the capital city of Bhutan/. This statue is made of bronze and gilded in gold, which catches the eyes of every people who visited Thimphu. This 177 feet statue is visible from many parts of the city and shower blessings to the people. You can also find other idols inside the dordenma to witness the beauty of this amazing structure that resembles spirituality.
Weekend Market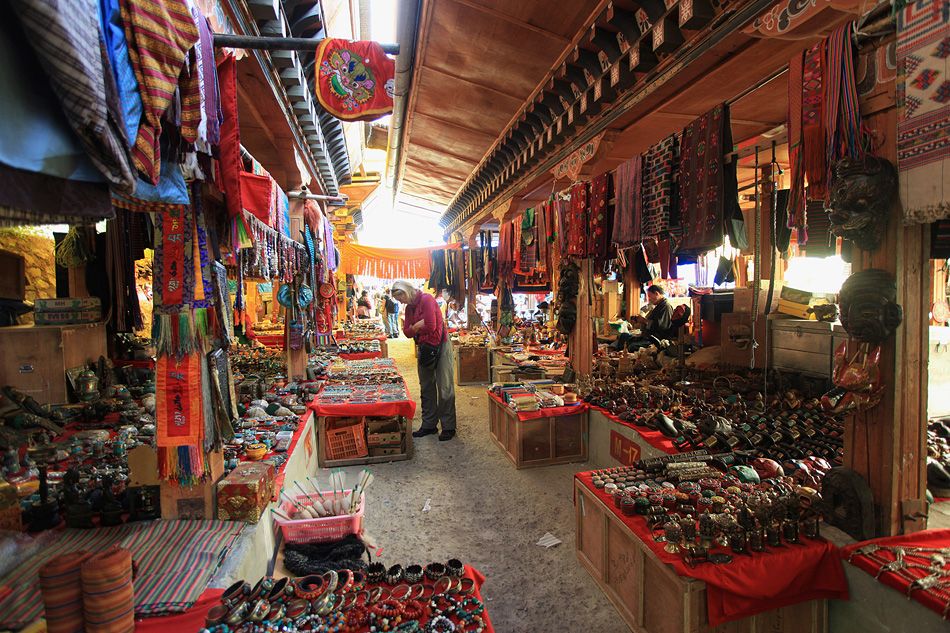 Passing time on the weekend market can bring more smiles on your face. It is at the bank of river Wang Chhu and offers culture, food, and local lifestyle. Do shopping and enjoy some of the food items like dried fish, pork, ground barley, red rice, cheese, wild honey, etc. The shopkeepers came here from the neighboring area on Thursday evening and leave on Sunday night. The weekend market in Thimphu adds more fun to your Bhutan trip.
Things to do in Thimphu

If you are planning for some adventure and fun activities then you are in the right place to meet your desires. There are lots of things to do in Thimphu to get excitement and unlimited fun. Let's zoom into some of the popular activities you find in Thimphu.
Hiking at Trulku temple
Learn to make paper at Jungshi handmade paper factory
Witness the national animal – Takin at Motithang preserve
Enjoy shopping at the Weekend market
Be a part of any festival like Thimphu tsechu
Explore Thimphu with the best Thimphu Travel Guide and make your holiday memorable by witnessing some of the best offerings by the city. From a sightseeing tour to luxury accommodation, everything can be enjoyed by staying in this city. Here the ration modern amenities and traditional values are maintained so well.