The beauty of some places can't be described or judged by watching the pictures unless and until you witness those scenic views by traveling to those places which are known for extraordinary attractions influenced by the culture. Bhutan is one such country that offers so many things to explore and discover during your visit. You can explore Bhutan with the help of Bhutan tour operator. This blog is especially for Indian travelers who are looking for a memorable trip to enjoy their winter break. 
If you already visited Kashmir, Manali, Darjeeling or Sikkim then this is the time to visit the Kingdom of Thunder Dragon with the help of a Bhutan tour operator. This magical land is connected through India by Jaigaon, which is a census town in Alipurduar district in the state of West Bengal. You can enter Bhutan from Jaigaon by hiring a tour operator. Let's make your trip more exciting and thrilling by knowing more about this amazing country and its culture.
How to reach Bhutan?
Bhutan is facilitated with one international airport at Paro and can be connected by roads from India. The nearest railway station is Hasimara or else you can reach New Jalpaiguri Railway Station (in Siliguri) and then hire a car from there itself. Bagdogra airport (in Siliguri) is another option. Contact a travel agency and choose your Bhutan tour operator who will help you in making the trip more exciting and a bit convenient. It takes almost 4 hours to reach Jaigaon (Bhutan Border) from Siliguri whereas you can reach Jaigaon by 30 minutes via Hasimara.
Is the passport required to enter Bhutan?
Passport is not required for Indian citizens and you easily enter Bhutan through Bhutan Gate at Jaigaon. Phuentsholing is the name of the town that is connected with Jaigaon. But for moving to other places you need to issue a permit from Bhutan Immigration Office at Phuentsholing. Valid identity and address proof along with passport size photographs are required for issuing the permit.
Note: A tourist can take a maximum of 100 cigarettes during their entry to Bhutan though smoking and consumption of tobacco are fully banned in Bhutan. Smoking in public places is a punishable offense in the country.
Where to stay in Bhutan?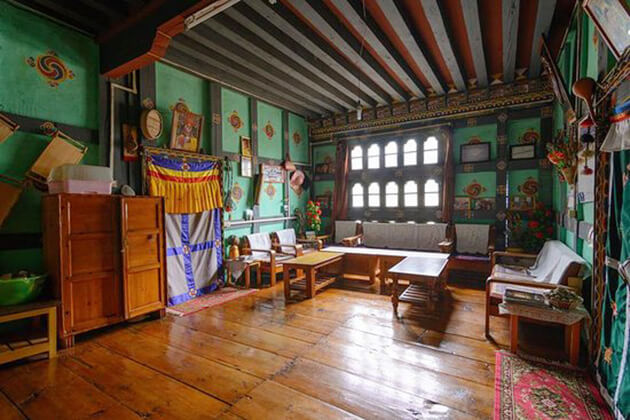 After entering the country you need accommodation and Bhutan tour operator will guide you in finding the best hotels in Bhutan. You can also prefer to stay in a homestay which gives you the chance to know the people by getting closer. Homestay owners are familiar with India travelers and can speak Hindi as well. They will share food with you by giving you the chance to taste local cuisines. Hotels are also available at affordable rates by providing warm hospitality equipped with modern amenities. Phuentsholing, Paro, and Thimphu offer some of the best hotels in Bhutan. 
About Currency

The Bhutanese currency is called Ngultrum, which is equivalent to the value of Indian currency, i.e., INR 1 = Ng 1. You can use a small denomination of Indian currency in Bhutan but notes of 500 and 2000 are not valid in the country. The image of the King is displayed in the currency of Bhutan.
How to pack for Bhutan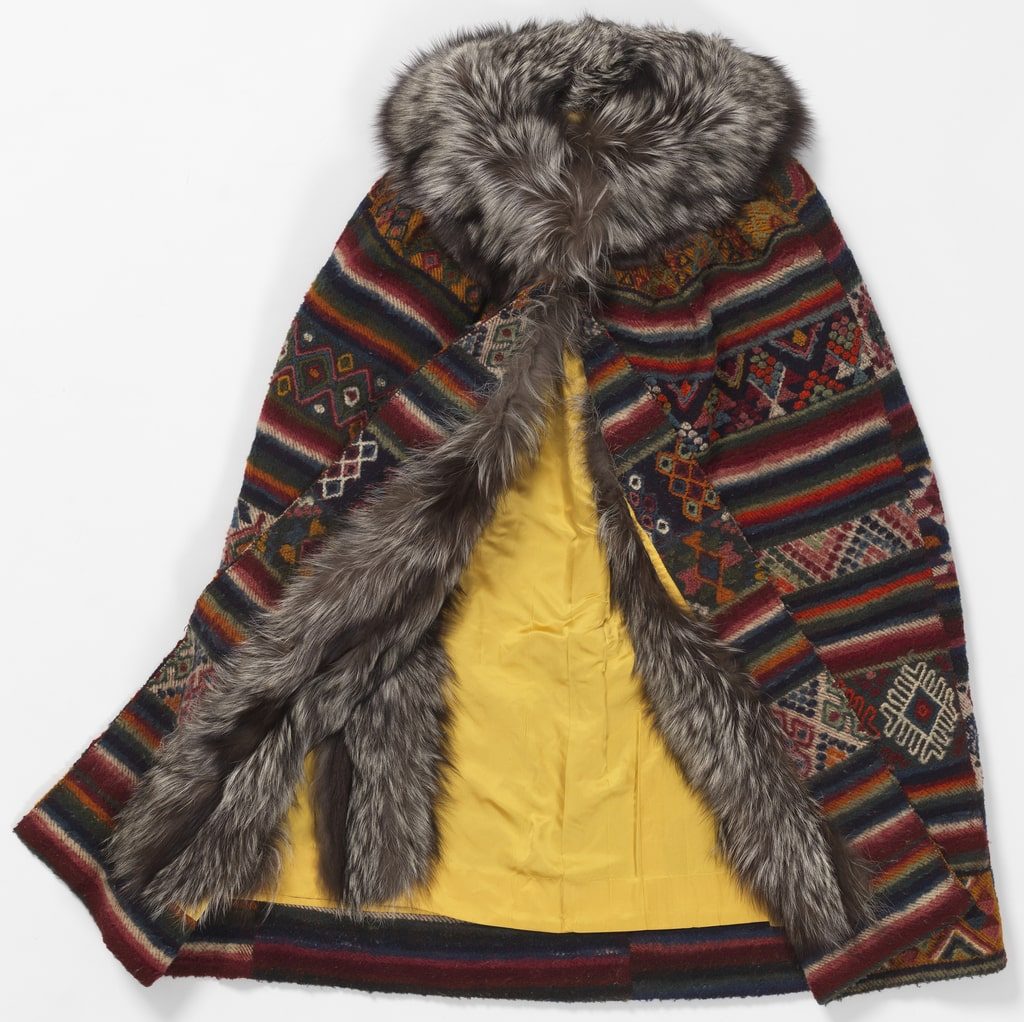 If you are going to enjoy this winter in Bhutan then you must pack your luggage with woolen garments, jackets, gloves, and cap. Most of the places in Bhutan offer you chilling weather only the southern part is relatively humid. Try to pack your bags with winter garments and enjoy your trip by witnessing those snow-capped mountain ranges.
Attractions in Bhutan
Phuentsholing – Welcoming Tourists with Bhutan Gate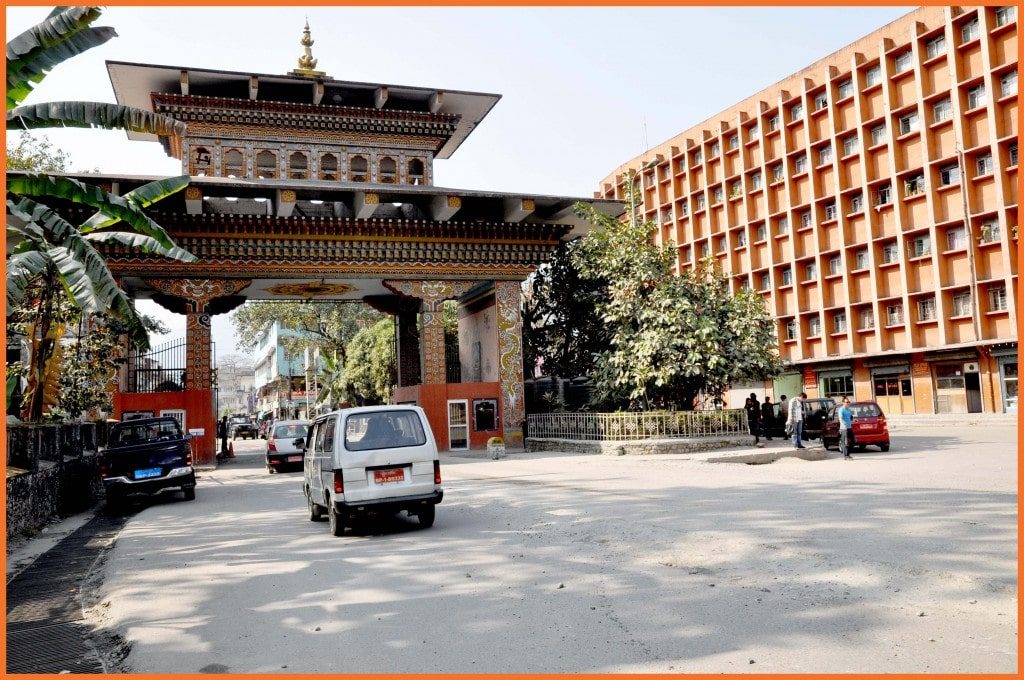 Places to visit: After issuing a permit from the Bhutan Immigration office you can visit:
Amo Chhu Crocodile Breeding Centre
Zangto Pelri Lhakhang
Zangto Pelri Park
Karbandi Monastery
Torsa River Side
Phuentsholing Market
Phuentsholing Viewpoint
Palden Tashi Chholing Shedra
Phuentsholing Park
Paro – The place with the only International airport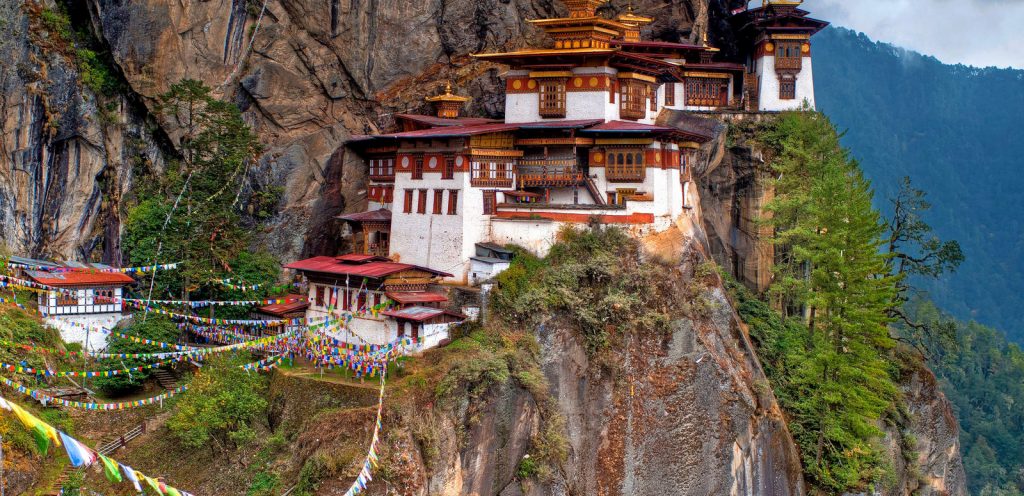 Places to visit: Paro is known for its lush valleys and pleasant weather throughout the year along with the famous Tiger's Nest Monastery (Paro Taktsang). You can also visit:
Jangtsa Dumtseg Lhakhang Temple
Chele La Pass
Airport View Point
Paro Weekend Market
Namgay Artisanal Brewery
Zuri Dzong Fort
Rinpung Dzong Monastery
Drukgyal Dzong Monastery
Dasho Nishioka Chorten Museum
National Museum Of Bhutan
Tamchoe Monastery
Kyichu Lakhang
Dungtse Lhakhang
Dzongdrakha Goemba
Thimphu – The capital city and a place for shopping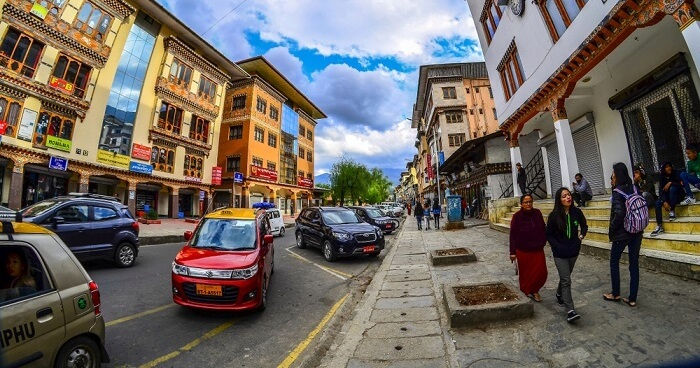 Places to Visit: The capital city is known for its weekend market and lavishing nightlife. You can also visit:
Dochula Pass
Tashichho Dzong (Thimpu Dzong)
Thimphu Chorten (Memorial Chorten)
Bhutan Post Office Headquarters
Simply Bhutan Museum
Changangkha Lhakhang
National Institute for Zorig Chusum
Motithang Takin Preserve
Simtokha Dzong
Punakha – The Cultural Hub

Places to visit: Punakha was the earlier capital of Bhutan and share the rich cultural heritage of the country. You will find two popular rivers Mo and Pho in this region along with:
Punakha Dzong
Punakha Suspension Bridge
Khamsum Yulley Namgyal Chorten
Sangchhen Dorji Lhuendrup nunnery
Chimi Lhakhang Temple
Royal Botanical Park, Lampelri
Druk Rafting Service
Explore these places and spend your time in this country where everyone is happy with their life and worship nature for the betterment of human survival. Bhutan is considered as the first carbon negative country in the world and welcomes tourists all over the world. Bhutan tour operator will make your dream into reality with attractive Bhutan packages.