Bhutan, 'the land of thunder dragon' seems to be the happiest country in the world. This serene country is a landlocked country between China & India which cover 38,729 square kilometers area of the total. It is situated at an elevation of 8,000 ft above the sea level. This majestic country is a unique blend of traditional cultural life as well as the modern life. Dotted with spell-binding high mountain peaks, eye-catching landscapes, holy monasteries and lively nightlife, Bhutan is known to be one of the best places to explore in the world. However, there are many places to see in Bhutan that will blow your mind. Among them, Chele la Pass & Dochula Pass are the most spectacular places that attract many visitors from all over the world. Your Bhutan trip will be incomplete without exploring these two passes.
How to reach Bhutan?
By air: The easiest way to reach Bhutan is by taking a flight from your nearest airport to Paro International Airport. And at the airport, you can opt to rent a car or hire a taxi to reach your desired destinations.
By rail:  As Bhutan is a place of high altitude valleys and mountains it is quite unfit for laying out tracks for railways. However, the nearest railheads are Hasimara Railway Station and New Jalpaiguri Railway Station, from where you can reach Bhutan either by hiring a taxi or renting a car.
Hire a taxi to get a glimpse of Chele la Pass & Dochula Pass –
When you make a plan to visit Bhutan, it is extremely important to organize your whole trip in much-customized fashion before embarking on a journey. And we will solve your problem by offering the best rates compared to other dealers. If you want to hire a well-serviced taxi in Bhutan for your hassle-free trip, then get in touch with us. A.V Tours provides the most trustable taxi service in Bhutan and we assure to provide you with the most pocket-friendly tour packages. For a budget-friendly taxi booking in Bhutan from us, kindly follow our website or just make a call for your advanced booking. We assure you will never feel regret for your choice.
Through our reliable taxi services, you can explore these two charming places, which are described below-
1. Explore the beauty of Chele la Pass: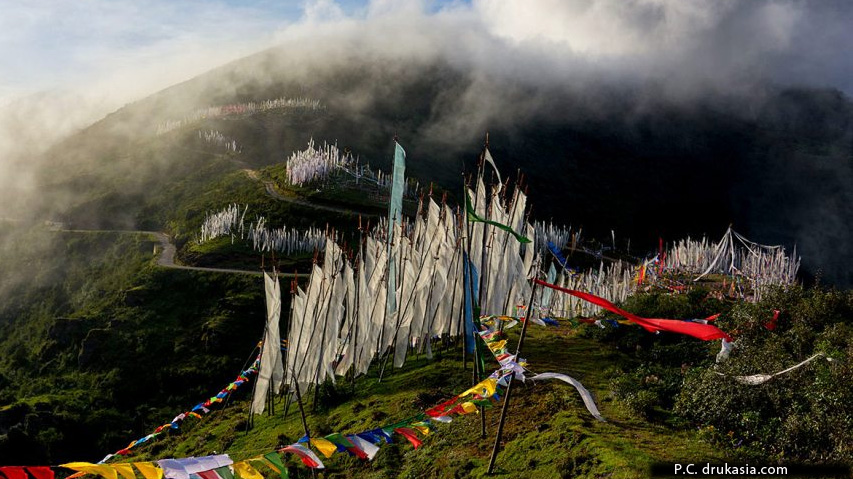 Bhutan is a mountainous country which is linked with a series of passes. Among all, Chele la Pass is the highest road pass in the country which is situated between the valley of Paro and Haa. Many tourists came here to explore various points of beauty. Some prefer driving, some hiking and some prefer mountain biking down either to Haa or Paro valley in their bikes. On the way of driving to Chele La, you can explore alluring views of mountains as well as green dense forest. Depending on the season you will encounter various sights such as a frozen river, waterfall, rhododendron forest, and yaks grazing peacefully.  On a clear day, you can also witness the charm of Mt. Jomolhari, Bhutan's most sacred peak at over 22,000 ft.
Highlights-
Distance from Paro International Airport: 35kms
Best time to visit: September to February
Elevation: 3810m
Temperature: Max– 19◦C, Min- 0◦C
Nearby attractions: Dzongdrakha Goemba and Kila Nunnery
2. Get amazed by the charm of Dochula Pass: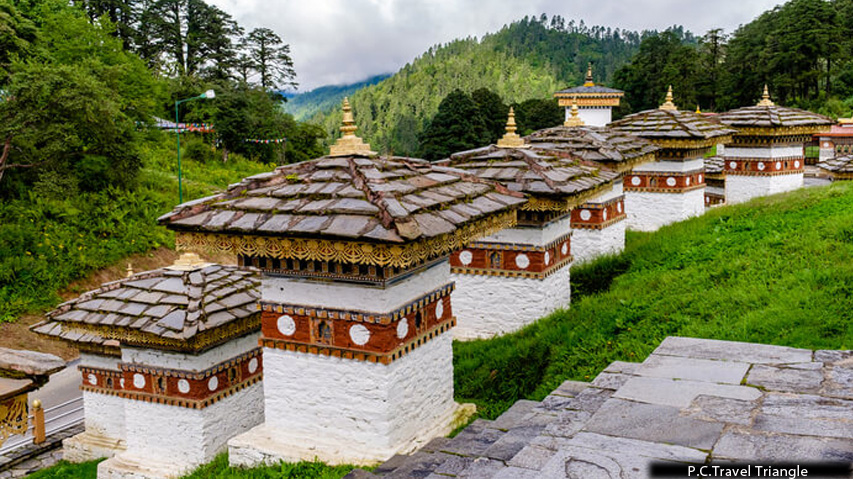 It is known that often the dark times in life encourage people to create something beautiful as well as interesting. And this proof given by the people of Bhutan did by creating Dochula Pass in honor of 108 Bhutanese soldiers who died in a 2003 military operation which is known as "Druk Wangyal Chortens." Dochula Pass is not just a place of historical importance, but also a popular tourist attraction that you cannot afford to miss. From here, you can witness the most splendid views of the snow-capped mountain peaks in Bhutan including Masaganang, Kangphugang, and Tsendagang.
Highlights-
Distance from Chele La Pass: 90.8 km
Best time to visit: September to February
Elevation: 3,100m
Temperature: Max- 8°C, Min- 2°C
Nearby attractions: Druk Wangyal Lhakhang temple and the colorful Druk Wangyal Lhakhang Festival
Popular FAQs-
#Q. Is December good for exploring Dochula Pass?
#A. Yes, in fact, December is the best time to explore Dochula Pass as this time you can witness the glamour of snowy capped mountains as well as the passes.
#Q. Do any entry permit needed for visiting these two passes?
#A. Yes, there is need of permission for visiting Chele La Pass as well as the Dochula Pass. You should not worry about it as your travel agent will manage everything about these passes.
#Q. What are the nearby resorts of Chele La Pass to stay?
#A. Bongde Goma Resort and Tashi Namgay Resort are the nearby resorts of Chele La Pass where you can stay with great comfort.