Kila Gompa Nunnery is a charm of Paro where you will get the most peaceful experience by exploring the nun's daily life.
Kila Gompa Nunnery at a Glance…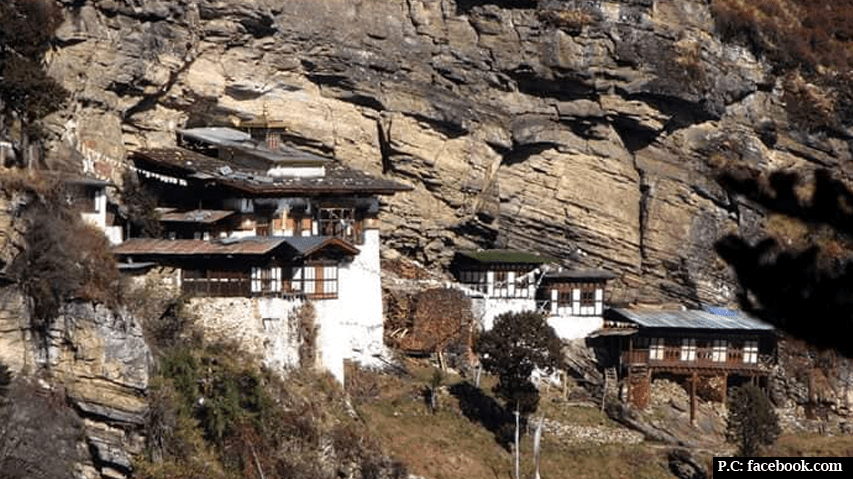 Kila Gompa Nunnery is located on the cliffs below Chele pass at about 3,500m above sea level – between Paro and Haa, in the West of the Kingdom of Bhutan. Although rarely visited by tourists, it provides one of the most stunning views in Western provinces. Known as the "second Tiger's Nest" (thus comparing it in magnificence to Takstang Monastery), the nunnery currently houses 90 nuns aged between 8 and 83 under the supervision and tuition of Asha Lama.
Hike to the Nunnery-
To enjoy the adventurous hiking experiences up to Kila Nunnery, firstly you have to reach Paro from your town either by air or by road. Then you can opt for one of the best taxi services in Bhutan and drive to Chele La pass, the highest motorable pass in Bhutan at 3988 meters above sea level.
Then you have to walk for 30-60 minute and hike down to the Kila Gompa Nunnery.
The beauty of Kila Nunnery will blow your mind-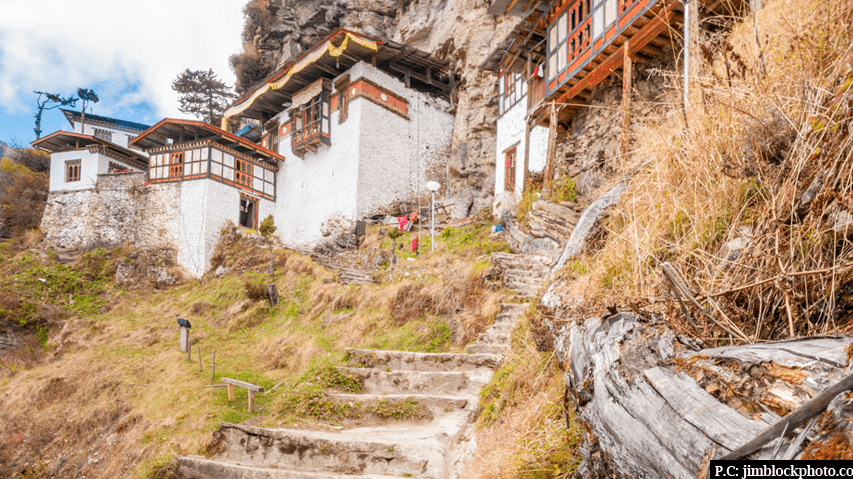 When you will finally reach Kila Nunnery, numerous colorful prayer flags can be spotted along with a couple of nutcrackers hanging out on an old tree.  This nunnery makes itself a perfect photogenic spot.
What Does Its History Say?
It was initially established in 9th century by Drupthob Chhoeje Norbu as a meditation center. Later, after being destroyed by fire, it was rebuilt by Sherub Gyelthsen.
Brief idea about Kila Nunnery…
The Sanskrit meaning of Kila is the compelling spiritual power that destroys the evil spirits.
Established as a meditation site in the 9th century and reputedly the oldest nunnery in Bhutan, Kila Nunnery is reached via a dirt track from the road between Paro and Haa. Along with approx 10 rooms and seven temples it was built on a cliff at a height of 3,500 meters as tree houses. It offers great views of Paro, and Jele Dzong across on the far ridge and also seen to the north are Mt Chomolhari and Jichu Drake on a clear day. This amazing nunnery is far away from the hustle and bustle of the towns' people but their view probably never misses anything.
Lifestyles of nun will amaze you!!
You will surprise to see that their life is so simple and live in serenity and in harmony with Mother Nature. Your visit to this temple and know more about the lifestyles of the nuns living here will bring you the positive change and positive energy in your life. It is so fascinating to see nun's life in the fascinating country where they enjoy the true happiness and blessing of our Mother Nature and almighty God.
Popular FAQs-
Q. What is the best time to visit Kila Gompa Nunnery?
A. Kila Gompa Nunnery remains open throughout the year for the visitors. However, it is recommended to avoid this place during rainy season as the roads became very risky.
Q. Is there any Petrol pumps present near to Kila Nunnery?
A. Kila Nunnery is being situated on a high cliff, so the petrol pumps are quite far from it. There are several petrol pumps present at a distance such as BDS Petrol Station, Bharat Petroleum, Indian Oil etc.
Q. What are the best nearby hotels of Kila Nunnery?
A. The best nearby hotels of Kila Nunnery are Hotel Drukchen, Naksel Boutique Hotel & Spa, and Hotel Khamsum.