Are you in search of an enchanting destination that offers a unique blend of cultural richness, breathtaking landscapes, and family-friendly experiences? Look no further than the enchanting kingdom of Bhutan.
Nestled in the heart of the awe-inspiring Himalayan mountains, Bhutan stands as a testament to the harmonious coexistence of tradition and modernity. It's a place where the old world charm of centuries-old monasteries and fortresses seamlessly integrates with the contemporary aspirations of its people. In this blog, we invite you to embark on a journey through the mystical and mesmerising kingdom of Bhutan, where every moment is a glimpse into a world where nature's beauty is preserved in its purest form, and cultural richness flourishes in a serene and timeless setting.
Choosing the Right Family-Friendly Bhutan Package
Selecting the perfect family-friendly Bhutan package is the first step towards a memorable journey. Bhutan Tour Packages provided by GoAVTours.com offer a range of options tailored to meet the needs and preferences of families of all sizes. To ensure you choose the right package, consider the following factors:
Duration: Bhutan is a destination that offers a wealth of experiences. Depending on the length of your family vacation, you can opt for a package that suits your schedule, whether it's a short 5-day tour or an extended 15-day exploration.
Activities: Take into account the interests of every family member. Bhutan boasts an array of activities, from cultural tours to trekking and wildlife adventures. Ensure your package includes activities that cater to the diverse preferences within your family.
Accommodation: Family comfort is paramount. Bhutan offers a range of accommodations, from luxurious resorts to cosy guesthouses. Choose a package that provides comfortable lodging suitable for your family's needs.Budget: Bhutan, while captivating, can be budget-friendly. Consider your budget and select a package that aligns with your financial plan. GoAVTours.com offers a variety of options, so you can find the perfect balance between affordability and luxury.
Top Family-Friendly Activities in Bhutan Packages
Bhutan is a treasure trove of experiences that will captivate both young and old. When you book a family-friendly Bhutan package through GoAVTours.com, you can look forward to a diverse range of activities that will keep everyone engaged. Here are some of the top experiences that Bhutan has to offer:
Visit to the Tiger's Nest Monastery: The iconic Paro Taktsang, also known as the Tiger's Nest Monastery, is perched on a cliffside and offers breathtaking views of the Paro valley. While the hike to reach the monastery may be a bit challenging for young children, older kids and teenagers will find it both adventurous and rewarding.
Explore Bhutan's Rich Culture: Bhutan's cultural heritage is woven into every aspect of daily life. Take your family on a cultural journey by visiting ancient dzongs (fortresses), monasteries, and museums. Witness colourful festivals and traditional performances that showcase Bhutan's vibrant culture.
Wildlife Encounters: Bhutan is home to a rich variety of wildlife, including the elusive snow leopard and the Bengal tiger. Explore the Phobjikha Valley, a designated conservation area, and spot endangered black-necked cranes during their winter migration. Kids will be fascinated by the diverse fauna and flora of this region.
Try Archery, Bhutan's National Sport: Archery is not just a sport in Bhutan; it's a cultural tradition. Engage in a friendly archery competition with your family and learn about the significance of this ancient sport in Bhutanese culture.
Cooking Classes: Bhutanese cuisine is a delightful fusion of flavours. Enrol your family in a Bhutanese cooking class and learn to prepare traditional dishes like Ema Datshi (chilli and cheese curry) and Momos (dumplings). It's a fun and educational experience that will leave everyone craving more Bhutanese flavours.
Scenic Drives and Nature Walks: Bhutan's pristine landscapes offer numerous opportunities for family-friendly walks and picnics. The Dochula Pass, with its panoramic views of the Himalayas, is a great spot for a family photo session. Don't forget to keep an eye out for yaks grazing in the meadows!
Relaxation and Spa: After days filled with exploration, unwind and rejuvenate at one of Bhutan's luxurious spas. Many family-friendly packages include spa treatments where parents can indulge while children enjoy supervised activities.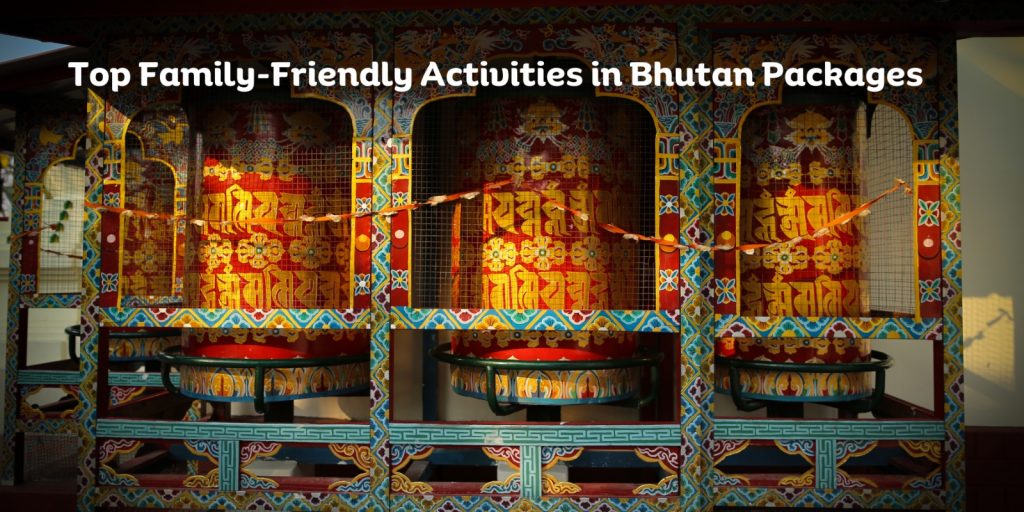 Budget-Friendly Family Options in Bhutan Packages
Bhutan has often been perceived as an expensive destination, but with the right planning and guidance from GoAVTours.com, you can enjoy an affordable family vacation without compromising on quality. Here are some budget-friendly options to consider:
Travel During the Off-Peak Season: Bhutan's off-peak seasons, such as the winter months of December to February, offer lower prices on accommodations and tour packages. While the weather may be colder, the experience is equally rewarding, and you'll find fewer crowds at popular attractions.
Opt for Homestays: Experience Bhutanese hospitality firsthand by staying in traditional homestays. This not only provides an authentic cultural experience but can also be more budget-friendly than luxury hotels.
Group Travel: If you're open to meeting new people, consider joining a group tour. Group tours often come with cost savings and the opportunity to make new friends during your journey.
Local Cuisine: Explore local eateries and food stalls for delicious and affordable Bhutanese cuisine. Eating like a local not only saves money but also allows you to savour authentic flavours.
Plan Ahead: Booking your family-friendly Bhutan package well in advance can help you secure the best deals and discounts. GoAVTours.com offers early booking incentives, so keep an eye out for promotions.
Limit Shopping: While Bhutan offers beautiful handicrafts and souvenirs, shopping can quickly add to your expenses. Set a budget for shopping and stick to it to avoid overspending.
Remember that Bhutan's daily tariff includes a wide range of services, including accommodation, meals, transportation, and guide services. This all-inclusive approach simplifies budgeting and ensures a seamless travel experience.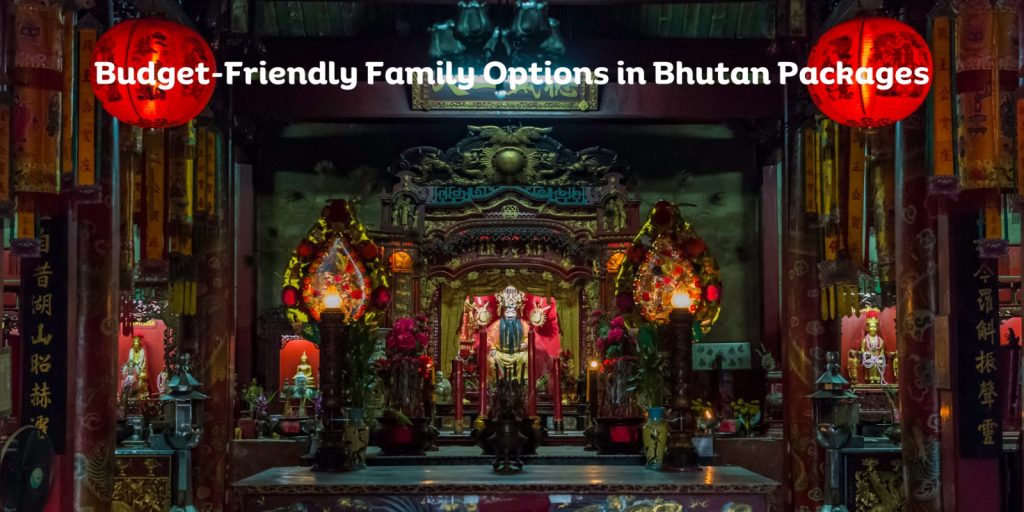 Booking Your Family-Friendly Bhutan Package
Booking a family-friendly Bhutan package with GoAVTours.com is a straightforward and hassle-free process. Here's a step-by-step guide to help you get started:
Research and Choose: Begin by exploring the various Bhutan Tour Packages available on GoAVTours.com. Take your time to compare the itineraries, inclusions, and prices to find the package that suits your family's preferences.
Contact the Experts: Reach out to the GoAVTours.com team to discuss your family's specific needs and interests. Their experienced travel advisors can provide personalized recommendations and answer any questions you may have.
Customize Your Itinerary: If you have specific requests or would like to customize your itinerary, GoAVTours.com can tailor a package to match your requirements. Whether it's adding extra days or including unique experiences, they are here to accommodate your family's desires.
Confirm Your Booking: Once you're satisfied with your chosen package, confirm your booking with GoAVTours.com. They will guide you through the payment process and provide you with all the necessary details for your trip.
Prepare for Your Journey: As your departure date approaches, make sure to complete any required travel documents, such as visas, and pack accordingly. GoAVTours.com will also provide you with essential information about your trip, including the contact details of your local guide.
Enjoy Your Bhutan Experience: Finally, embark on your family-friendly Bhutan adventure with confidence, knowing that GoAVTours.com has taken care of all the logistics. Relax, explore, and create cherished memories with your loved ones in the Land of the Thunder Dragon.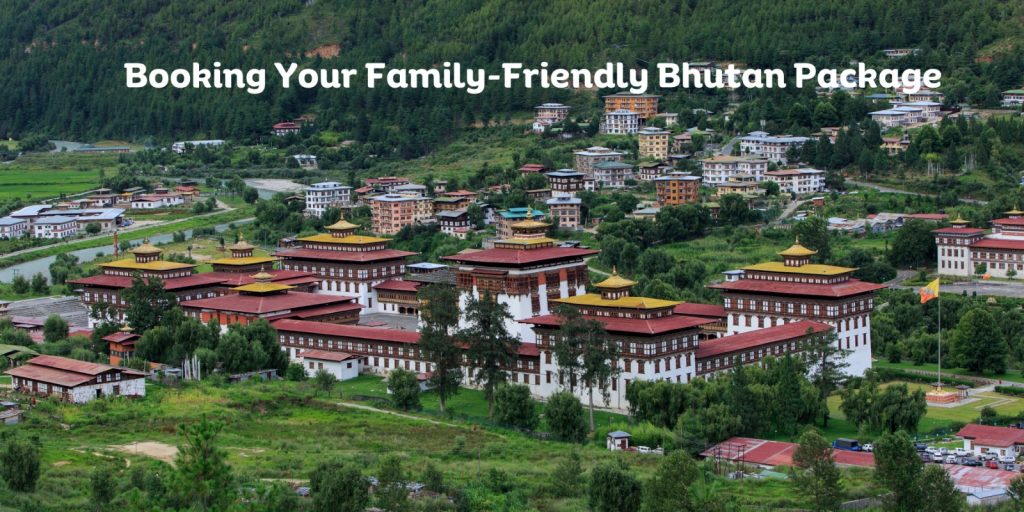 In conclusion, Bhutan is a tapestry woven from the threads of culture, nature, and adventure, offering a family-friendly destination where cherished memories are created with every step. With GoAVTours.com as your trusted companion, guiding you with expertise and precision, and a Bhutan package customised to your family's desires, you are poised to embark on a journey that promises enchantment and guarantees to be eternally unforgettable. Start planning your family's Bhutan adventure today and prepare to be captivated by the mesmerising magic of this Himalayan kingdom. Your family's Bhutanese odyssey awaits, promising a world of wonder and lasting bonds.