"With a mixture of adventure and self-realization, trekking in Bhutan is an experience of a lifetime!"

Those who want thrill and excitement in their life and want to be adventurous, trekking in Bhutan is the best way to indulge yourself!
Perched on the lap of the Himalayas, this place on Earth is the hidden paradise of all time. It has the best weather, the heartwarming atmosphere, picture-perfect mountains that will blow your senses.
So, what are you waiting for? Book now before the crowds arrive. Get ready for travel to Bhutan for trekking.
Before you start your adventure, here is why you should plan!!
With a million reasons to tell, here are some of the perfect excuses you can give:
One of the ten global biodiversity hotspots
Culturally and spiritually rich
Friendly people and welcoming hospitality
Hosting colorful and unique festivals
Breathtaking mountains, valleys, and monasteries
Perfect trekking time
Bhutan Trekking seasons- Spring and Autumn
However, it is perfect plan to travel to Bhutan for trekking between March to May and September to November. The temperature ranges from 20C to -10C. The days are brighter and warmer, the nights are colder.
Essentials needed
Comfortable Trekking Boots
Warm jacket and gloves
Hat and sunglasses
Sunscreen and other necessities
Sleeping bag
Camera
Torch
Water Bottle
Rain gears
First-aid Kit
Snacks and chocolates
Unforgettable trekking tour
Adding to the uniqueness of trekking in Bhutan, here we are to know about the various treks located here.
Jhomolhari Trek
Travel to Bhutan for trekking takes you through the route of Bhonte La Pass and Takhung La Pass. The annual Jhomolhari Mountain Festival is the best time.
Main points
Duration: 8-day trek
Highlights: Offering mind-blowing views of Mount Jhomolhari
Elevation: 16,400 feet
Snowman Trek
Without any doubt, it is one of the best treks in Bhutan. The trail has 11 passes which are best for a challenging adventurer.
Main points
Duration: 25 days
Highlights: Mainly ideal for experienced hikers
Elevation: 23,000 feet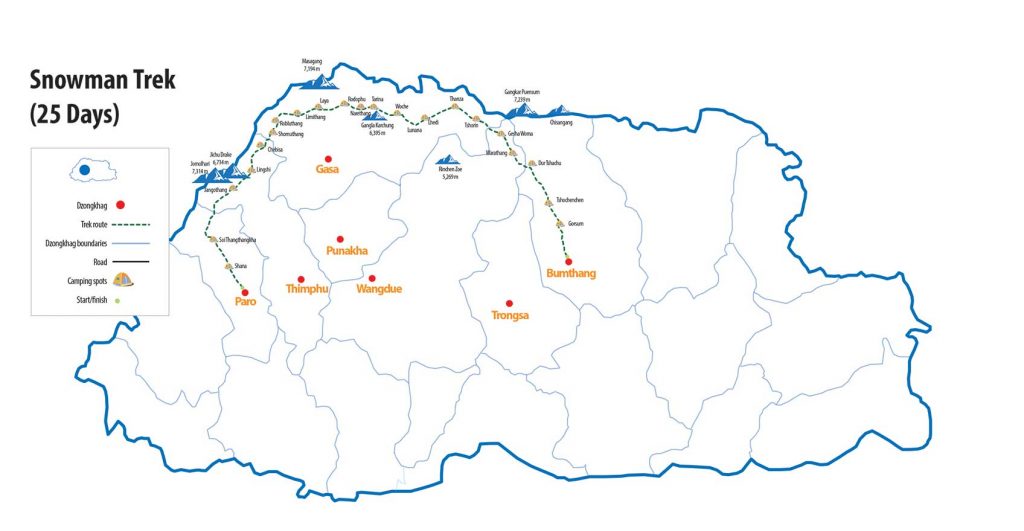 Punakha Winter Trek
One of the easiest trekking routes in Bhutan, it is a perfect start for beginners. The trail starts from Thimphu and ends in Punakha valley.
Main points
Duration: 4 days
Highlights: Mesmerizing views of Phajoding Monastery and Sinchula Pass
Elevation: 11,150 feet
Dagala Thousand Lakes Trek
This challenging trek in Bhutan will take you up to the mountains. It will also offer some capturing views of Mt. Kanchenjunga and Mt. Everest.
Main Points
Duration: 6-day trek
Highlights: Witness some of the beautiful alpine lakes
Elevation: 14,000 feet
Bumthang Owl Trek
If you want to experience a little more about what trekking is in Bhutan but short of time, then Bumthang Owl Trek is for you!
Main Points
Duration: 3 days
Highlights: Offering an authentic feel and a sneak peek into the culture
Elevation: 13,210 feet
Druk Path Trek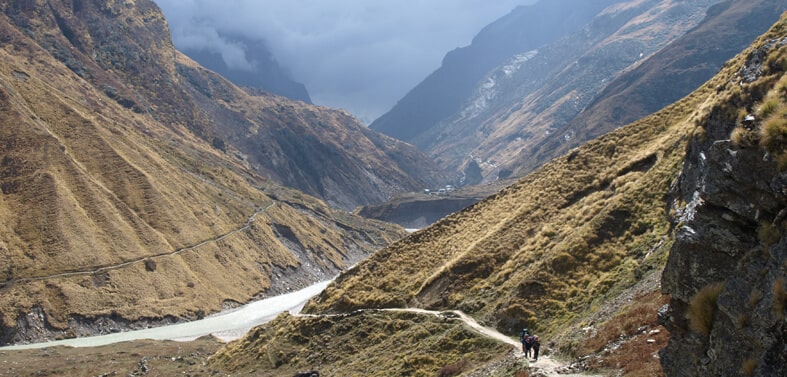 It is a great trek giving a good sight into the trekking adventure. If you want to learn about trekking skills, then Druk Path is the ideal choice.
Main points
Duration: 3 days
Highlights: Offers the gorgeous views of Mt. Gangkar Puensum
Elevation: 11,480 feet
Tips before trekking
Get yourself medically checked
Carry your own trekking gear
Carry a medical kit
Stay hydrated
Check the weather forecast
Stay with your group
Do not trek alone
Wear comfortable shoes
Keep yourself covered and warm

With the most beautiful surroundings, trekking in Bhutan is worth experiencing adventure. Share your joyful moments with us, we would love to read them!

Write your own Adventure Story